December 1, 2002. 5PM
It is growing dark outside when I leave the hospital and the cold air, holding a promise of snow, nips at my nose. I have post-

poned

this last leave-taking as long as I can; now the red streaks of the setting sun on the horizon make it unlikely that I will return to the beach house before twilight descends and will be driving down Route 1 at a time when my vision is at its worst. Still, I am reluctant to make this final departure. A
hundred times, as I sit in the parking lot, I am tempted to return to the vigil at Mom's bedside, holding onto her fragile hand and listening to her labored breathing, knowing that before long her brain will stop sending signals to her heart to beat and her lungs to fill with air.
I cry openly on the drive home, alone in the car. The rest of my family--husband and children--wait at the beach house, suitcases packed and ready. Mom no longer inhabits the body that lies in the bed at BeBe Hospital. Dad and I have debated this at her bedside. Is she already in Heaven or is her soul lingering
with us for a while longer? We have come to no conclusion. The doctors tell us that "the lights have gone out" for Mom and she is no longer aware of what is around her. The nurses, though, seem to think that even those who are comatose can hear our voices, so we have kept up a cheerful line of chatter for the last three days
.
Sometimes we cried and told her how much we will miss her, and sometimes we laughed with stories from our life as a family. Before I
leave
her for the last time, I kiss her and assure her that I will take care of Dad. Then I leave, my heart breaking.
Harvey has already left for his long and lonely drive back to North Carolina. Both of us have volunteered to stay with Dad, but he has insisted that we go back to our own lives. He will sit by the side of his wife of 52 years. His own good-bye to her will be private.
December 2, 2002. 8AM
I have just returned home from school where I told the principal about my mother. He has sent me home and insisted that I not return until the end of the week. The light on the answering machine is blinking.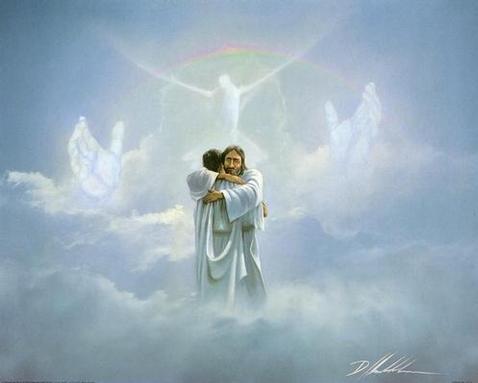 "Linda? This is Dad. Mom passed away at 6:45 this morning."