My mother believed that cleanliness was next to Godliness. My brother and I used to tease her that if one of us got up during the night to go to the bathroom, she would make the bed. It was only a small exaggeration, because tidiness ruled Mom's--and subsequently our own--world. Our small house was so neat and tidy that visitors would wonder if people actually lived there. Harvey and I were taught to never leave our toys or games around; everything had a place and belonged in that place unless it was in immediate use. Mostly, we played in our rooms or in the basement. The living room was
for
public view. The exception
was
Christmas, when the train platform took up most of the living room and Mom sighed loudly as she picked up silver tinsel from the floor. It was a difficult time of year for her.
It was, to say the least, annoying. While my brother and I kept our rooms neat and tidy, my own closet was a total mess. It was the one place in the house where I felt I could revel in chaos. And since it was a huge closet, going way back under the stairs to the attic and almost as big as my whole bedroom, it became a place of messy refuge for me. I would take a pillow and a book into the closet, relaxing amid the jumble of stuffed animals and doll clothes in the making. When I was grown and had my own house, I would think as I lay on the hard wooden floor, I will let them play wherever they want. I would not mind a little mess.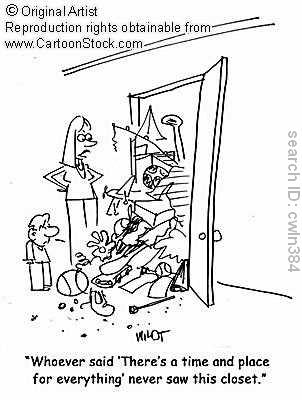 Thirty years, three kids, and several vacuum cleaners later, I have discovered a startling truth about myself: I have inherited my mother's neat gene. I long for order amid the clutter that four adults and three animals can make in a three-bedroom row house. I long for a chair to relax in that does not hold at least one animal and a pile of sports magazines. I want to walk in the door without tripping over size 12 snow boots. I want to--dream of dreams
!
--sweep the kitchen floor without discovering that the broom has been used to scrape snow off of a Mercury van and now sits outside amid the fall rakes. I want--yes, I will say it--a house where there is a place for everything is in its place.
I have about as much chance of getting it as a vacuum cleaner has of surviving in our house. And the reason is clear: everyone else in my family, with the exception of the oldest son who lives in the city, hasn't a neat bone in their bodies. Either that or they are totally unaware when a tornado sweeps through the house.
Let's take yesterday, for example. I worked ten hours at the college, drove home in the snow and ice, and entered the door to find that my coffee table had now become home to a laptop and a video game console. Someone--probably Allen--had chosen to sleep on the love seat and pillows and blankets were strewn around. The mail had found its way into three separate piles and it appeared that each of the three inhabitants had needed to wear two coats; I know this because I counted six thrown onto various chairs and two tossed over the banister. And that was only the living room. I will spare you the description of the kitchen. Let's just say it was not an improvement over the living room. Sigh.
I managed to step over the clutter without breaking a hip and sought for a place to put down my schoolbag. I swear, there had been a spot just that morning, but it had disappeared under a mound of wrapping paper and Christmas cards. Double sigh. Ignoring it all--or at least trying not to explode about it--I made my way into the kitchen and ran water into the tea kettle, moving aside a few dishes to get to the faucet and wiping off some burnt- on -something from the stove. As I stood leaning against the kitchen counter waiting for the water to boil, it all became clear to me, the reason my mother craved order and tidiness, the reason I found myself longing for the same thing in my life. In the midst of my epiphany, the tea kettle whistled and as I steeped my bag of Earl Gray into the teacup, I thought it through.
My mother's early life had been one of disorder and upheaval; her family moved often and had little. Her mother died at an early age, and my mother and her siblings were shuffled to a series of relatives. My mom could recall very few possessions she had or any relative's house where she did not feel she was a burden in the post-depression economy. Her desire for order was born of its lack in her early years. It was the whole neat thing that provided her with the security she did not have during her childhood. Timid and introverted, order was the way my mother coped with a world that held many fears.
I am neither timid nor introverted. And, to be honest, I am used to chaos. I can remember a time when the kids were small and the backyard was full of noisy children putting on a circus with every
bedsheet
in the house contributing to the Big Top. My mother dropped by and asked me how I could stand all the chaos.
What chaos?
I asked her. To me, it was all pretty normal.
In the last eighteen years, though, my own life has become as out of control as anyone's can ever be. With Ron's frequent trips to the hospital and ongoing illnesses, I have learned to expect the unexpected. I can handle it all with nothing more than a pair of knitting needles and a good book. But something in me, my mother's neat gene, longs for tidiness, for order, for an entryway not full of spare computer parts. It doesn't seem to be too much to ask, but I am pretty sure I will not get it. I have tried to control this bunch of inmates before. It does not end well.
But the longings of the soul are not to be denied. Quietly, I crept into the dining room and retrieved my Kindle from the desk. Carefully holding my tea in one hand and my Kindle in the other, I made my way over a sleeping cat and a basket of laundry and up the stairs. While my husband and two adult kids were squabbling over the television, I sought my own refuge, a small corner of my bedroom that had somehow been spared the tornado's path. I sipped on my tea and relaxed, one thought in my head: someday, when they have all moved back out and I have my own little house at the beach, it will be neat and tidy all the time.
Triple sigh.