She was gliding across the dance floor the first time I saw her, holding her arms out at shoulder height, moving into her partner's spins. Her smile said it all: she enjoyed life. I watched her turn and dip, her eyes alight with the pleasure of her measured movements. I did not know her, then. I did not know that this young woman would slowly move into my life and claim a piece of my heart. Throughout the reception, whenever I saw her, Wendy was dancing.
Wendy is still dancing. In the years since I first admired her skills on the dance floor, my daughter Bonnie and Wendy have become fast friends. When both of their marriages fell apart, almost simultaneously,
other friends did not understand, but Bonnie and Wendy had each other. When Wendy's mother passed away in 2009, Bonnie offered me as a substitute. So Wendy was thrown into the family traditions of birthday phone calls and off-key renditions of song; she kept dancing.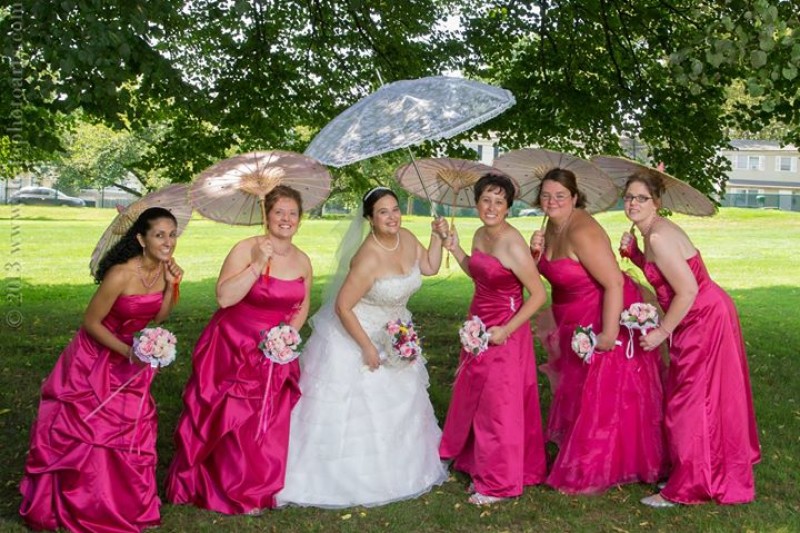 Bonnie and I were in Baltimore on a mother-daughter weekend when Wendy called to say she had gotten engaged and wanted Bonnie to be in her wedding. It wasn't long after that when Bonnie and Jared made their own wedding plans and, of course, Wendy needed to be in the wedding. Both "my girls" wanted me to share in shopping for gowns and decorations and flowers and I, with a houseful of boys, was happy to oblige. Wendy and Ernie honored me by asking me to read one of the seven blessings at their wedding. Despite job losses and financial upheavals, whenever I saw Wendy, she was upbeat. She danced.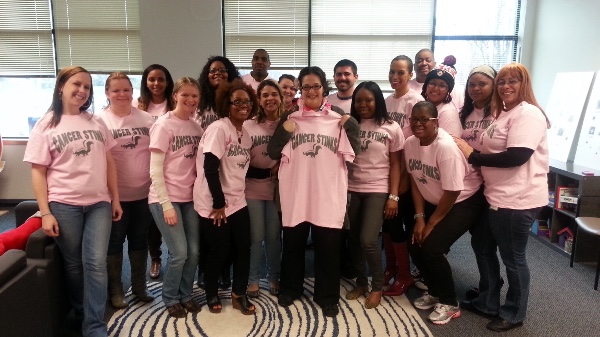 On March 17, 2015, the Dancing Girl received devastating news: breast cancer, stage 3. Wendy is only one of eight women nationwide who will develop some sort of cancer in their lifetimes. The relative risk of invasive cancer goes up as the woman gets older. At 35, Wendy had a 1 in 228 chance of developing some form of cancer, but that risk was heightened since her own mother had died from the disease. In Wendy's—and my daughter's—age group, 7% have cancer. And at 35, Wendy and Ernie had hoped to start a family soon, but chemotherapy may affect their chances of that hope becoming a reality.
Wendy is still dancing. She may not be spinning the circles she did years ago at Allison's wedding, but she is still doing her level best to be positive about it all. Her oncologist has told her that she will not die of this cancer and that she will survive the treatments. But her chances of having children with her beloved Ernie will improve greatly if she has fertility treatments. Although Wendy does have health insurance, her co-pays, as she says "are ridiculous" and many treatments will not be covered. She is hoping to raise $20,000 through her "
Super Wendy Saves the Ta Tas Campaign
". As of this writing, she has raised $2,105.
The cost of cancer treatments has increased in the last few years, although some new drugs are less expensive. But out of pocket costs can range from several hundred to $100,000, depending on the type of cancer and the treatments. It seems astounding, but as someone whose husband has needed much medical help not covered by health insurance--$12,000 this year alone—I know it to be true. I pray that Wendy's campaign will net her the funds she needs.
But even more than money, Wendy and her husband Ernie need our support. So far, her girlfriends—who she calls "more like sisters" and her co-workers "the best in the world" are showering her with support in the way of cards, notes, teddy bears, tee shirts, and inspirational messages. It is wonderful to see, but not at all surprising for the girl who danced into many lives besides mine.
Wendy is also blessed by her husband, Ernie. The statistics show that 25% (!) of men will leave a wife who has had a serious health diagnosis. Conversely, only 3% of women leave. Men are not raised, I suppose to be caregivers. Ernie is a wonderful exception. He will be by Wendy's side every step of the way. And, whenever possible, one of Wendy's support team will be there as well.
Wendy—now known as "Super Wendy" in Facebook circles—is going to beat cancer. We know it. We believe it. We look forward to it. And I will don a pink "Team Wendy" tee shirt and celebrate with the best of them. She will need to be "Super" in order to win the fight ahead of her. I will chant "Go, Super Wendy" as she crosses the finish line.



But, to my mother's heart, she will always be the Dancing Girl.